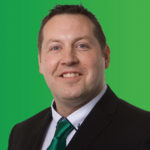 Cllr. Peter 'Chap' Cleere – a strong voice for local communities.
It has been a great honour for me to have been able to represent the people of Kilkenny over the last 5 years. I have worked tirelessly for the benefit of our communities since elected in 2014, and with your help I would like to be able to continue my work as a public representative for the new Callan / Thomastown electoral area. 
Although councillors have limited powers, they do play an important part in resolving local issues such as those relating to our roads maintenance and upgrades, footpaths, lighting, housing, planning, social welfare, parks, libraries, parking and other county council amenities.
I am always available to my constituents, and am the only councillor in the electoral area to have a constituency office, which I opened in Graiguenamanagh in 2015, to ensure I am accessible to the people I represent at all times.
Working and living in the area with my wife Brenda and 4 daughters, gives me a deep understanding of the issues facing communities, businesses and families. I have worked with many of you and various community groups over the past 5 years to try and tackle these issues and improve our services.
With the new changes in the local electoral area, I understand I am a new candidate for many people. However, I can guarantee I will work every bit as hard for my new area in Callan / Thomastown as I have done in the old Kilkenny Area East area. My proven track record and huge work ethic will testify to this.
With your support, I am looking to continue my work as an active, committed and forceful representative. I am asking you to VOTE NO.1 PETER 'CHAP' CLEERE in the upcoming local elections in May.
Best wishes
Chap
My Priorities
To continue to be a strong representative voice for individuals, communities and local organisations and groups.
Ensuring greater security and protection for people through the support of An Garda Siochana and Kilkenny County Council.
The accessibility and delivery of local government grants for the elderly, disabled and local community groups.
More community and recreational areas for our younger people.
Improving the quality of our roads and footpaths, along with more adequate public lighting and traffic calming around our schools.
Supports for sporting organisations, of all disciplines, throughout the area.
To continue to work for the provision of social and affordable housing solutions.